Reliable Home Improvement Contractors Available To Residents of Albuquerque, NM & all Surrounding Areas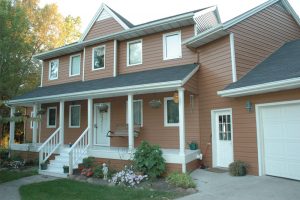 With a rich history of performing high-quality home improvement renovations for homeowners throughout the Albuquerque area since 1989, ABC Seamless of Albuquerque has remained the leading choice for residents seeking a reliable contractor. Our team specializes in providing a wide range of custom-fabricated products that will instantly enhance the aesthetic appeal and durability of your home. Our signature steel siding is made out of 28-gauge, G-90 galvanized steel, which makes it the strongest material available in the industry, allowing homeowners to feel confident that tier cladding won't buckle, crack, chip, or warp, even under the most severe weather conditions.
Furthermore, ABC Seamless of Albuquerque can install a number of additional home improvement products, including:
Seamless gutters and gutter protection systems
Parapet cap flashings
And more
We Stand by Our Work
In addition, when you turn to the professionals at ABC Seamless of Albuquerque, you can rest assured your installation will be completed the first time because all of our installers are dedicated to performing exceptional workmanship. And, we stand by the work we perform and the high-quality products we offer so much that we offer exceptional warranties so you can rest assured your investment remains protected.
For more information about what makes us stand out as one of the area's leading home improvement companies, contact ABC Seamless of Albuquerque today. When you do, make sure to ask about the convenient financing options we offer to all qualifying homeowners.