Select the Best Siding Contractor Available to Homeowners in Albuquerque, NM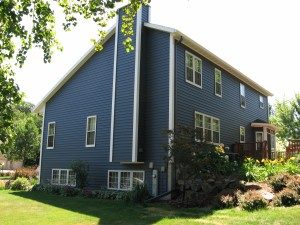 Seamless siding from ABC Seamless of Albuquerque does more than just give your home the update that you desire. We are the best siding contractor for your home in Albuquerque, New Mexico because we offer protection that house siding manufactured by other materials simply can't offer. This is because our seamless siding is manufactured from 28-gauge steel that will never expand or contract, buckle, or warp even through extreme temperature swings. And, because steel resists fading like no other material, you can be sure our siding will maintain its like-new appearance longer than any other products.
At ABC Seamless of Albuquerque, we measure, cut, and manufacture your new house siding on-site, ensuring a perfect fit with no seams, gaps, or openings that can allow for the infiltration of bugs, rodents, or moisture which can lead to severe damage.
In addition, when you have ABC Seamless of Albuquerque install your new siding, you'll be able to feel safe knowing that your job will be completed correctly. Our factory-trained installers have years of experience and will install your siding with the meticulous attention to detail that you deserve. Furthermore, we back all of our work with tremendous warranties, providing extra protection for your investment.
Let's Get Started!
For more information about what makes us stand out as the best siding contractor available to homeowners in Albuquerque, NM, and the surrounding areas, contact ABC Seamless of Albuquerque today.