How Will Gutter Guards Protect my Home's Gutter System?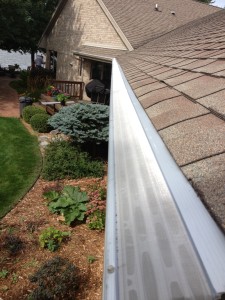 Are you tired of climbing up on a ladder to clean out your gutter system and risking your safety in order to do so? Most homeowners in Albuquerque, New Mexico, and the surrounding areas would probably answer yes. That is why it is essential to have gutter guards or covers installed on top of your existing gutter system. A gutter guard is useful in the prevention of leaks because clogged gutters will lead to breaks or cracks that will eventually cause moisture damage around your roof line.
The installation of gutter guards will effortlessly protect against any unwanted debris from landing in your gutter system, including:
Leaves
Twigs
Seeds
Nests
And more
ABC Seamless of Albuquerque is the Area's Leading Gutter Company
When you turn to ABC Seamless of Albuquerque for the installation of gutter guards you will be granted the opportunity to also replace your existing gutter system at the same time. This will allow you to receive high-quality seamless steel gutters so that have the highest functioning gutter system possible. With your gutter guards keeping out all debris and your seamless gutters allowing rainfall to easily flow away from your home, you will never again have to worry about leaks, cracks, or breaks from forming and wreaking havoc on your property.
To learn more about the gutter guards we offer to homeowners in Albuquerque, NM, and the surrounding areas, contact ABC Seamless of Albuquerque today. When you do, a knowledgeable member of our team will happily answer any questions you may have about our products and services.