Impressive Gutter Guards will Leave Your Gutters Debris-Free at Your Home in Albuquerque, NM, or a Surrounding Area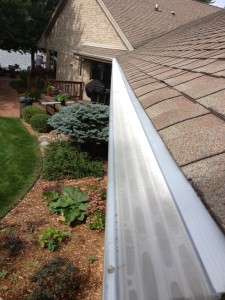 Gutter guards are essential to a new gutter system upgrade that many homeowners in Albuquerque, New Mexico, and the surrounding areas take for granted. To receive the most top-notch gutter protection, make sure to have ABC Seamless of Albuquerque install their unique cover atop your new seamless gutters. We have proudly served the area since 1989 and will happily install a new gutter system for your home to ensure you never have to worry about climbing a ladder and cleaning your gutters again.
By directing rainfall away from your home, gutters protect your foundation from issues like erosion, sagging, and cracking. Gutters can also prevent your basement from flooding and your siding from getting damaged.
But what happens when a gutter fails? You're opening yourself up to trouble. Gutter guards from ABC Seamless ensure your gutters never fail! Our gutter guards protect your gutters from getting clogged and add the extra confidence needed to ensure your home never has a foundation issue.
So, what do you get when you buy gutter guards from ABC Seamless?
Gutter Guards: A Necessary Shield
Gutter guards help to alleviate common gutter-related problems like blockages and overflowing water. Uncovered gutters can be a common place for pests to nest which will also cause blockages in the future.
Having one of our top-tier gutter protection systems installed is the easiest way to ensure these blockages don't lead to moisture damage around your home. Thanks to their construction, gutter guards from ABC Seamless of Albuquerque are a different breed than any others. A piece of stainless-steel mesh is applied to your gutters, making them nearly impenetrable by common yard debris such as leaves, twigs, and pine needles. Once installed, your gutters will perform at peak during even the toughest rainstorms.
When our job is done, you'll have ultimate protection for your gutters, so you'll rarely have to climb that ladder to clean them again! After all, our products are infinitely cheaper than a trip to the hospital following a nasty fall.
Let's Get Started Today!
Foundation work is expensive. Why run that risk when gutter guards from ABC Seamless of Albuquerque can provide your home with extra protection? Don't waver! Your Albuquerque, NM, home is worth any additional shielding.
When you hire ABC Seamless of Albuquerque for any gutter project, you get more than just another home improvement company. You get:
A complimentary consultation where we will discuss all available options.
Factory-trained and –certified installers to ensure gutter guards are installed correctly the first time.
A transferable lifetime warranty on all gutter covers.
And more!
For more information about our gutter guards, contact us today. When you do, make sure to ask about the financing options we offer to qualifying homeowners.