High-Quality Gutter Protection System Available to Homeowners in Tijeras, NM & Nearby Communities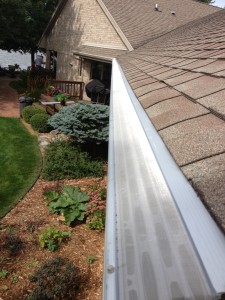 Having a gutter protection system installed should go hand-in-hand with the installation of seamless gutters at your home in Tijeras, New Mexico, or a surrounding area. At ABC Seamless of Albuquerque we are able to install durable and aesthetically appealing gutters and gutter guards that will guarantee that you never need to climb up on a ladder to clean out your gutters again.
A gutter protection system is one of the most important tools you can have installed on your home in Tijeras, NM, or a surrounding area, because water overflows can lead to extensive problems that are costly to fix. Once you have ABC Seamless of Albuquerque come in and replace your old gutters with seamless gutters and install a gutter guard on top of them you will never have to worry about any unwanted debris that could lead to damage to your gutters, from entering your gutters, including:
Tree nuts
Seed pods
Twigs
Pine needles
Leaves
And more
Additionally, all of the gutters installed by ABC Seamless of Albuquerque are made with the same seamless steel that we utilize in our signature siding. This will allow us to ensure that you are receiving a gutter with no weak spots because the seams are the usual point where breaks can occur. Not to mention, the flawless appeal of a seamless gutter will instantly enhance the curb appeal of your home.
For more information about the gutter protection system and other gutter products that we offer to residents of Tijeras, NM, and the surrounding areas, contact ABC Seamless of Albuquerque today. Or, feel free to stop by our beautiful showroom to see all of our products up close.