Gutter Replacement Contractors for Homeowners in or near Albuquerque, NM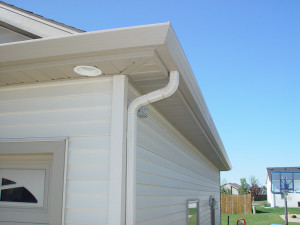 If it's time to consider gutter replacement for a section of your gutter system, or time to have new designer gutters installed, call on the home renovation specialists at ABC Seamless of Albuquerque, New Mexico. We can assist with a wide array of gutter-system upgrades, from replacing a section of your existing gutters with a matching product, or providing full gutter replacement service and installing new seamless gutters that are sure to improve your home's curb appeal.
There is no other product that can compare to a seamless designer gutter system from ABC Seamless of Albuquerque. We fabricate our gutters on site, using the precise measurements of the home for a perfectly crafted trough that stretches from corner to corner. No seams means fewer opportunities for leaks to develop, ensuring that all of the rain water and melted snow gets channeled properly away from the home's foundation. Plus, our replacement gutter systems can handle up to 30 percent more water than standard gutters, so your home will have an added layer of protection from the water damage that can accompany malfunctioning or inadequate gutters, such as:
Roof rot
Landscape erosion
Property flooding
And more
In addition to full gutter system replacements, we can fabricate gutter sections up to 32 feet long that match an existing system, using various materials, including copper, aluminum, or steel.
To learn more about our gutter replacement services in Albuquerque, NM, or any surrounding community, call ABC Seamless of Albuquerque today.