How Do You Cap a Parapet Wall?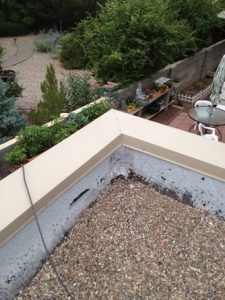 If you're concerned about the safety of the flat roof at your home in Edgewood, New Mexico, or a surrounding community, look no further than the experts at ABC Seamless of Albuquerque. We have proudly served the area since 1989 and will cap the parapet wall at your home so that you don't have to worry about moisture damage occurring during the rare periods of intense rain experienced in the area. Our custom-made parapet caps are made to prevent long-lasting moisture damage and will stand strong for years to come.
In addition, the parapet caps we offer are made to be maintenance-free so that they won't rot, crack, chip, or peel while they protect your Edgewood home. And, we will ensure that our parapet caps are the right size for your home because we can custom manufacture them in a variety of sizes up to 30 feet in length.
Convenient Gutter Protection Systems 
To provide even more protection at your home in the event bad weather strikes, we are able to offer a high-quality gutter protection system that will provide impressive rainfall management at your home. Our durable gutters are made with the same seamless steel used in the rest of our home improvement products and when we pair it with a Gutter Topper gutter guard, you will be able to feel secure knowing that your new seamless steel gutter system won't become clogged by leaves, twigs, and debris. This will prevent overflows, cracks, and breaks which would typically lead to severe moisture damage along your foundation.
To find out more about the custom-made parapet caps that we offer to homeowners in Edgewood, NM, and the surrounding areas, contact ABC Seamless of Albuquerque today. When you do, make sure to ask about the convenient financing options available to all qualifying homeowners.