How Long Will Steel Siding Last at My Home in Albuquerque, NM?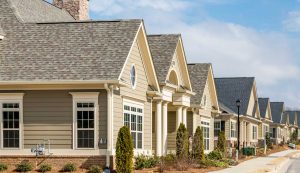 Steel siding is among the most durable, energy-efficient, and low-maintenance types of siding available to homeowners in Albuquerque, New Mexico, and the surrounding areas, making it a great alternative to siding made from wood or vinyl. For homeowners that desire resistance to fire and windblown debris, steel siding is hands down the best choice for a siding material that will last for many years to come.
Some of the benefits found with steel siding include resistance to:
Mildew – Unlike traditional wood or vinyl siding, steel siding is resistant to moisture damage which means you won't have to scrub or power-wash your siding as often to keep it looking nice.
Windblown debris – Steel siding is extremely durable to impacts which makes it the toughest option to withstand any windblown debris.
UV Exposure – The extreme heat of Albuquerque can often lead to a finish that fades away over time. However, with ABC Seamless steel siding, you won't have to worry about repainting ever again.
ABC Seamless of Albuquerque Offers High-Quality Steel Siding to Local Homeowners
If you're ready for new seamless steel siding at your home, look no further than the experts at ABC Seamless of Albuquerque. We proudly manufacture our siding from 28-gauge steel that will never warp, expand, buckle, or warp even through the most extreme temperature swings. And, when you select us as the installers of your new siding, you'll be confident the job will be done correctly thanks to our factory-trained installers who have many years of experience with our products.
For more information about the steel siding options we offer to residents of Albuquerque, NM, and the surrounding areas, contact ABC Seamless of Albuquerque today. Find out how our "Siding Without the Quacks" can make your home more elegant and better protected than any other siding product on the market today.