Protect Your Home With a Metal Parapet Cap from ABC Seamless of Albuquerque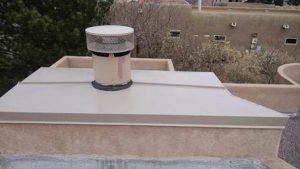 Having a flat roof is a generally safe investment for homeowners living in Bernalillo, New Mexico, and the surrounding areas. In fact, throughout much of the year, the weather is dry enough to not cause any problems. However, during the rare rain storm that can occur your flat roof is in serious danger of being affected by moisture damage on your parapets that can lead to serious damage throughout your entire roofline. Thankfully, ABC Seamless of Albuquerque is conveniently located in the area and custom fabricates parapet caps out of the same metal material we utilize in our signature siding. This means that it is custom made on-site to fit the exact dimensions of your home. In fact, we can even create caps in sizes ranging up to an astounding 30 feet in length.
ABC Seamless of Albuquerque Offers a Variety of Steel Products Made to Protect Your Home
In addition to our impressive custom metal parapet caps, ABC Seamless of Albuquerque are able to create a wide variety of additional products such as siding and roofing. When paired together, your home will be virtually impenetrable against everything Mother Nature has to offer. And, because we custom-fabricate our products out of 28-gauge steel, you'll be left with a stunning appearance that won't succumb to imperfections such as warps, wrinkles, or cracks.
For more information about our impressive metal parapet caps that we offer to homeowners in Bernalillo, NM, and the surrounding areas, contact ABC Seamless of Albuquerque today.  When you do, one of our knowledgeable team members will happily answer any questions you may have.