Protect Your Home in Santa Fe with a Metal Parapet Cap from ABC Seamless of Albuquerque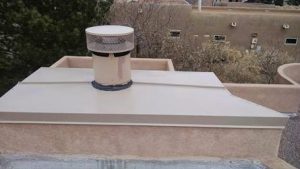 If you're looking for options to protect your home in Santa Fe, New Mexico, or a surrounding area, look no further than the professionals at ABC Seamless of Albuquerque. Flat roofs are very common throughout the area thanks to the typically dry climate but when the occasional bad weather does strike, a flat roof can leave your home susceptible to damage. Thankfully, we offer custom bent metal parapet cap solutions that will leave your home protected.
In fact, all of the metal parapet cap solutions we offer are:
Installed by highly-trained and -certified technicians who have been background checked so you can feel confident knowing your installation will be completed correctly the first time
Custom bent to ensure a perfect fit over the top of your parapet and six inches down the side
Available in a wide variety of colors to choose from to perfectly complement the existing appearance of your home
ABC Seamless of Albuquerque Offers Reliable Warranties
In addition, when you turn to ABC Seamless of Albuquerque for the installation of a metal parapet cap, you'll be able to feel confident knowing that you're receiving a quality product. In fact, we feel so strongly about the products we offer that we provide an impressive warranty to allow you to feel confident knowing your investment will remain protected.
For more information about the metal parapet caps we offer to homeowners in Santa Fe, NM, and the surrounding areas, contact ABC Seamless of Albuquerque today. When you do, we will happily offer a free estimate and answer any questions you may have about our products.