Durable Metal Parapet Cap Options Available to Residents of Tijeras, NM & the Surrounding Areas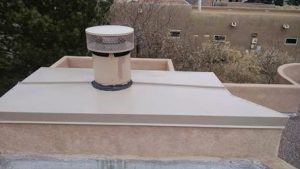 The installation of a metal parapet cap at your home is important if you have a flat roof. This style of roofing is very common in Tijeras, New Mexico, and the surrounding areas because of the dry climate which is important for a functional flat roof. However, during the rare period of severe weather and intense rain, it is important that the parapets on your roof are covered to resist mold, mildew, blistering, cracks, or stains that can occur.
Having a metal cap installed on top of your roof's parapets will prevent moisture damage and when you turn to ABC Seamless of Albuquerque for your project, you'll be able to take advantage of:
Factory-trained and -certified installers that understand the ins and outs of all of our products
A wide variety of colors to select from to perfectly complement your home and roofline
Custom bent metal that can stretch up to 30 feet in length and will fit up to six inches down the side to protect your home from moisture damage
We Stand By Our Work
When you turn to ABC Seamless of Albuquerque for the installation of a metal parapet cap, you will be able to rest assured you're working with a highly experienced company. In fact, our reputation for ensuring that our installers will complete your project to your complete satisfaction has allowed us to earn an A+ rating with the Better Business Bureau that we continue to maintain.
For more information about the metal parapet cap options we offer to residents of Tijeras, NM, and the surrounding areas, contact ABC Seamless of Albuquerque today. When you do, make sure to ask about the convenient financing options we offer to homeowners who qualify.