Aesthetically Appealing Seamless Metal Siding for Your Home in Grants, NM, or a Surrounding Area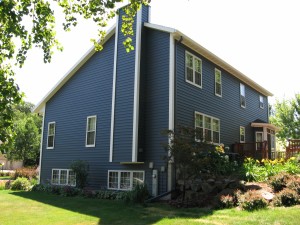 Homeowners looking for seamless metal siding to enhance the aesthetic appeal of their home in Grants, New Mexico, or a surrounding area, should look no further than the experts at ABC Seamless of Albuquerque. We have been in business since 1987 and have helped homeowners by fabricating and installing some of the most durable and beautiful seamless products available on the market. Furthermore, we custom fabricate all of our cladding on site to ensure that it provides you with a beautiful, seamless, look that flows flawlessly from side to side of your home.
Improving your home's visual appeal isn't the only benefit of the metal siding that is offered by ABC Seamless of Albuquerque. It is also able to provide your home in Grants, NM, with resistance to damage from:
Hail
Fire
Accidental impacts
Wind-blown debris
And more
Additionally, all of our metal siding is made with a Kynar 500® finish to help it retain its beauty and ensure that you no longer have to provide any maintenance on your home's cladding. And, with several layers of coating, our products are resistant to peeling, fading, chipping, and other damages.
For more information about the beautiful metal siding that we can offer for your home in Grants, NM, or a surrounding area, contact ABC Seamless of Albuquerque today. Or, feel free to stop by our large showroom to see all of our products in person. When you do, make sure to ask about our impressive financing options available to all homeowners who qualify.