Seamless Metal Siding Will Protect Your Home in Santa Fe, NM, or a Surrounding Community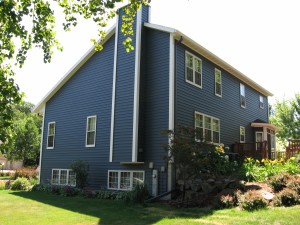 The seamless metal siding offered to homeowners in Santa Fe, New Mexico, and the surrounding areas, by ABC Seamless of Albuquerque, is among the most durable choice of cladding you can select for your home. We have proudly helped countless homeowners with the installation of this top-tier siding since our founding in 1989 and will happily do the same for you.
The rigid metal siding that ABC Seamless of Albuquerque offers is known to be the most weather-resistant, durable, and visually appealing type of cladding available to homeowners in Santa Fe, NM, and the surrounding areas. This is because our seamless steel siding is:
Low maintenance – With our Kynar 500® finish in place you will be able rest assured you will never have to paint your siding again
Fabricated on-site – Thanks to our unique method of fabrications your siding will be entirely seamless and stretch flawlessly from side-to-side of your home
Easily customizable – We offer seamless steel siding in either log, horizontal, or board and batten styles with a wide variety of colors to choose from
Additionally, our metal siding is constructed from 28-gauge, hot-dipped, G-90 galvanized steel to ensure that you are receiving a product that has is virtually indestructible. This will allow you to rest assured that no seams, warps, or wrinkles will ever occur which could result in water damage or infestations.
For more information about the metal siding that we install for homeowners in Santa Fe, NM, and the surrounding areas, contact ABC Seamless of Albuquerque today. When you do, make sure to ask about the variety of financing options we offer to all qualifying homeowners.