Parapet Cap Flashings Installed by ABC Seamless of Albuquerque, NM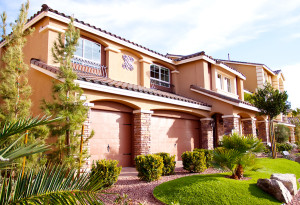 A parapet cap is a necessity to protect homes designed with the flat-roof architecture that is so common here in New Mexico, and ABC Seamless of Albuquerque is the company you can depend on for parapet caps that will provide unequaled protection for your property. Stucco is an attractive material that is resistant to many adverse weather conditions; however, while it is water resistant, it is not waterproof. This means your home could be subject to damage from water that sits on your flat roof, as it can eventually seep inside your stucco, causing stains, cracks, mold, blistering, or other costly issues.
A parapet cap installed around the top and down the sides of your roof parapet will provide your home with the necessary protection to prevent water damage. When you turn to ABC Seamless of Albuquerque for this added protection, you will discover that:
We custom bend metal to manufacture a product that goes over the top of your parapet and six inches down the side to completely protect the stucco on your home from water damage.
Parapet caps are available in colors that will complement your home.
Your parapet cap will be installed by highly trained and experienced technicians who have been background checked and drug screened so you can be sure they are knowledgeable as well as trustworthy.
Additionally, when you choose ABC Seamless to install a parapet cap or any of the other home improvement services we offer, you can rest easy knowing that we have earned an A+ rating from the Better Business Bureau and will work tirelessly to ensure your complete satisfaction.
Contact ABC Seamless of Albuquerque today if you have any questions about how our parapet cap installation can protect your home. We offer free estimates and will be happy to answer all your questions.