Seamless Steel Siding Can Provide the Ultimate Protection for your Home in or near Rio Rancho, NM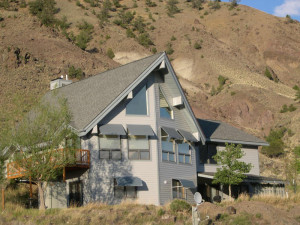 If you're thinking of having new siding installed on your home in or near Rio Rancho, New Mexico, then the company to call is ABC Seamless of Albuquerque. We have helped countless homeowners in the region since 1989 by fabricating and installing some of the most rugged, yet beautiful, seamless steel home improvement products on the market today.
We will create your siding right on the job site using 28-gauge, hot-dipped, G-90 galvanized steel. By using the precise measurements of your home in or near Rio Rancho, NM, your house siding will stretch as solid ribbons of beautiful steel from corner to corner, eliminating those ugly seams, gaps, warps, and wrinkles that can sometimes mar the profile of a home clad with inferior, pre-cut materials.
Steel provides incredible protection for your home against damage from:
Hail
Wind-blown debris
Accidental impacts
Fire
And more
Because our house siding is fabricated from heavy-gauge steel, it provides a virtually indestructible armor coating for your home.
What's more, your investment will be safe when you call on ABC Seamless of Albuquerque to care for your home. We absolutely stand behind all of the work we perform. In the unlikely event that a problem should arise with any of our products or services, we are available, day or night, and will make sure to correct the issue quickly.
To learn more about the kind of siding we install on homes located in or near Rio Rancho, NM, give the pros at ABC Seamless of Albuquerque a call today.