What is the Best Siding Material?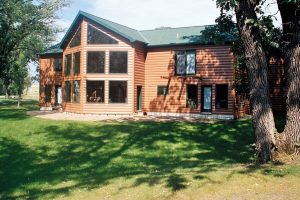 Selecting the right siding for your home can feel like a daunting task if you're unsure of what qualities to look for in a reliable siding. Whether your current siding is cracking, chipping, breaking, fading, or peeling, there are many reasons that you may require a replacement at your home in Albuquerque, New Mexico, or a surrounding area. While many siding companies offer various materials that each boast different results, only a seamless steel siding can truly provide adequate protection against the harsh New Mexico weather.
Local residents that desire durable siding to protect their home against fading or windblown impacts should look no further than the experts at ABC Seamless of Albuquerque. Our seamless steel siding is manufactured out of 28-gauge steel that won't expand, warp, buckle, or break even under the most extreme of temperatures.
Impressive Siding Installations
ABC Seamless of Albuquerque specializes in custom measuring and manufacturing all of our impressive steel siding products on-site to ensure an accurate fit that flows flawlessly from side-to-side of your home with no gaps or seams. This will ensure that the risk of infiltration from rodents, moisture, and bugs are a worry of the past.
In addition, when you turn to ABC Seamless of Albuquerque, you'll be able to feel confident knowing that your installation will be completed correctly the first time. This is because all of our factory-trained and -certified installers pay close attention to detail and will install your siding to the high standards set by ABC Seamless. In fact, we feel so strongly in the quality of our products and in the work our installers perform that we offer an outstanding warranty to ensure your investment remains protected.
If you're ready to learn more about the impressive steel siding that we offer to homeowners in Albuquerque, NM, and the surrounding areas, contact ABC Seamless of Albuquerque today. When you do, make sure to ask about the convenient financing options we offer to qualifying homeowners.