What is the Function of a Parapet Cap?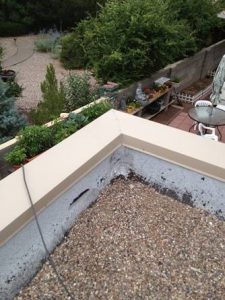 If you're tired of worrying about the flat roof at your home in Tijeras, New Mexico, or a surrounding community whenever bad weather strikes, look no further than the professionals at ABC Seamless of Albuquerque. We proudly install high-quality parapet caps that are able to prevent long-lasting moisture damage from occurring on the parapets of your residence.
What's more, all of the parapet caps we offer will create a maintenance-free solution so that you don't need to worry about moisture infiltration. What's more, we don't offer a one-size-fits-all solution for parapet caps and instead, we offer convenient custom-made solutions that can stretch up to 30 feet in length. 
Impressive Gutter Protection Systems
At ABC Seamless of Albuquerque, we are able to install much more than just high-quality parapet caps to prevent moisture damage at your home. In fact, all of our durable gutters and seamless gutters will allow you to spend less time cleaning your gutters so that they are able to properly channel rainfall away from your home. These gutters are made with the same seamless steel used throughout the rest of our product line and will provide a long-lasting solution for your home.
To find out more about the impressive custom-made parapet caps that we offer to homeowners in Tijeras, NM, and the surrounding areas, contact ABC Seamless of Albuquerque today. When you do, make sure to ask about the convenient financing options available to all qualifying homeowners.