What is the Most Durable Type of Siding?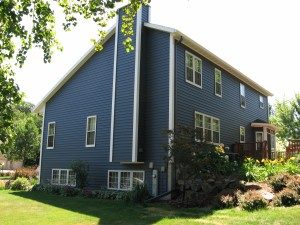 Steel siding from the industry leaders at ABC Seamless stands out as one of the most durable types of siding you can select to help protect your home when bad weather strikes. It's tough to find siding that's fire-resistant and durable against any unwanted pests and insects. However, that's exactly what you'll get with seamless steel siding. Thankfully, homeowners in Albuquerque, New Mexico, and the surrounding areas can turn to the experts at ABC Seamless of Albuquerque for durable seamless steel siding.
Our durable steel siding is custom cut and crafted from heavy-gauge, hot-dipped, G-90 galvanized steel which is thicker and stronger than other siding contractors' steel and superior to other home siding materials. And, because it's screw-secured to your home, it won't blow off or buckle in strong winds, unlike vinyl siding that tears away. This can also allow you to select from a multitude of colors and styles – including steel log siding – to give the exterior of your home the look and feel you've always desired.
In addition, ABC Seamless steel siding also provides your home with:
Low maintenance qualities – You'll never need to paint, scrape, or replace ABC Seamless steel siding. And, it is highly resistant to warping, fading, cracking, and chipping.
Amazing energy efficiency – Below our seamless siding lays a thick layer of insulation, wrapping your home in a blanket of thermal protection.
Unparalleled coverage – Our seamless steel siding is backed with a lifetime transferable warranty to allow you to feel protected in your investment for years to come.
Let's Get Started!
For more information about what makes ABC Seamless siding the most durable siding available to homeowners in Albuquerque, NM, and the surrounding areas, contact ABC Seamless of Albuquerque today. When you do, we will happily answer any questions you may have about our outstanding products.