Professional Gutter Company Available to Homeowners in Albuquerque, NM & Surrounding Areas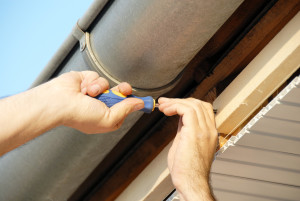 An important fact to remember when selecting a gutter company in Albuquerque, New Mexico, and the surrounding areas, is that not all gutters are made the same. In fact, ABC Seamless of Albuquerque expertly fabricates and installs only the best type of gutters – seamless! Our gutters are custom cut on site to ensure a perfect fit on your home, and are made utilizing a seamless style of construction to make sure they are durable enough to stand the test of time. Additionally, our gutters are entirely maintenance-free, meaning that no painting will ever be required.
For homeowners in Albuquerque, NM, or a surrounding area, it is important to choose a gutter company that installs a system that operates properly.  However, the aesthetic appeal of your gutters is just as important. That is why ABC Seamless of Albuquerque offers our seamless gutters in a variety of materials to match your home, including:
Additionally, our gutters are at least 30 percent wider than most other products from another gutter company, allowing more rainfall to be directed away from your home at a higher rate. To prove our commitment to quality, we offer an outstanding labor guarantee for up to 10 years, as well as transferrable warranties on all products/materials that will remain in effect for the entire life of your home.
If you would like to learn more about purchasing a seamless gutter system, contact the installation company that you can trust, ABC Seamless of Albuquerque. Alternatively, stop by our luxurious showroom Monday through Friday to look at all of the products that we offer.