Effective Gutter Covers Available to Homeowners in Edgewood, NM & All Surrounding Communities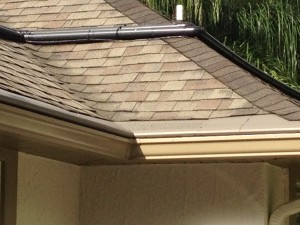 If you're in need of gutter covers to reduce the amount of maintenance that you routinely perform on your home in Edgewood, New Mexico, or another surrounding area, turn to ABC Seamless of Albuquerque. We have assisted homeowners in the area since 1989 by offering durable gutter guards that effectively eliminate the need to clear out your gutters or downspouts ever again.
When you have gutter covers from ABC Seamless of Albuquerque installed on your home in Edgewood, NM, or another surrounding area, we can guarantee that you will enjoy several years of maintenance-free gutters. This is because the right gutter guard system will effectively keep out all unwanted materials, such as:
Tree nuts
Pine needles
Leaves
Twigs
Seed pods
And more
Additionally, our gutter covers will prevent animals from building nests in your gutter system, which can eventually lead to even more blockages that will prevent water from flowing freely off your roof, and away from your home's foundation. Any water that does not properly drain out of your gutters can seep into the roofing underlayment and lead to rotting of the wood, causing extensive damage. However, with an effective gutter guard system making blockages a thing of the past, this is an issue that you will not have to worry about.
To learn more about gutter covers offered by ABC Seamless of Albuquerque for your home in Edgewood, NM, or another surrounding area, contact us today.