Reliable Gutter Protection System for Homeowners in Santa Fe, NM & the Surrounding Areas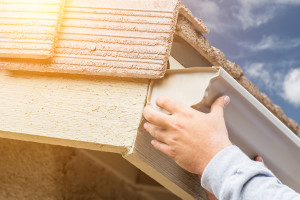 Are you concerned that the gutters on your home in Santa Fe, New Mexico, or a surrounding area, may not be reliable enough to weather the next storm that comes through the area? While these types of storms are quite uncommon, it is important that your gutters are working in tip-top shape when one does. In fact, gutters that aren't in good working order will eventually leak, crack, or break and can lead to extensive moisture damage and costly repairs. Thankfully, the professionals at ABC Seamless of Albuquerque understand your desire to stop performing regular maintenance on your gutters and will install high-quality seamless gutters and an impressive gutter protection system on your home.
High-Quality Gutter Protection System
The gutter guards offered by ABC Seamless of Albuquerque are designed to prevent any leaves, twigs, or debris from entering your gutters. This will ensure that no blockages will occur in your gutter system that would eventually lead to rain overflows or breaks. And, regular maintenance to your gutters will be a thing of the past so you will no longer need to worry about climbing up on a ladder to clean out your gutter system.
ABC Seamless Gutters
In addition to a gutter protection system, we also install top-tier seamless gutters that will ensure the smooth transition of rainfall away from your home. Furthermore, with a lack of seams your new gutters will enhance the overall aesthetic appeal of your home. Additionally, by turning to ABC Seamless of Albuquerque for the installation of new gutters or a gutter protection system, you will be able to take advantage of a number of unique benefits, including:
Installations performed by factory-trained and -certified installers
A transferable lifetime warranty
A variety of custom colors that will complement the existing exterior of your home
The ability to stop by our large showroom to see all of our products in person
And more
For more information about the impressive gutter protection system and seamless gutters we offer to homeowners in Santa Fe, NM, and the surrounding communities, contact ABC Seamless of Albuquerque today. Make sure to ask about the convenient financing options available to all qualifying homeowners.