Luxurious House Siding for Homeowners in Edgewood, NM & Surrounding Communities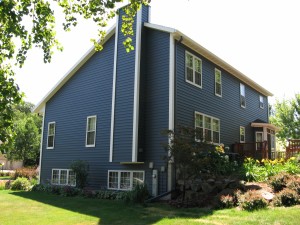 If you are looking for new siding for your house in Edgewood, New Mexico, or a surrounding area, turn to the experts at ABC Seamless of Albuquerque. Our unique brand of seamless steel siding is custom fabricated on-site at your home out of 28-gauge steel that is meant to never buckle, contract, or warp even through the harshest of temperature changes. And, because it's made of steel, it will resist fading and remain beautiful longer than any other material available in the industry.
When you turn to ABC Seamless of Albuquerque for siding for your house in Edgewood, NM, or a surrounding area, our siding will be guaranteed to fit precisely along the side of your house thanks to our method of custom fabrication. This technique will ensure that no gaps, seams, or cracks will ever occur to keep out any chance of infiltration from bugs, rodents, or moisture. And, we offer our siding in a wide variety of styles to ensure that we will have an option that will perfectly suit the existing exterior of your home. These styles include:
Horizontal siding
Log siding
Board and batten siding
And more
For more information about the elegant and durable house siding that we provide to homeowners in Edgewood, NM, and the surrounding areas, contact ABC Seamless of Albuquerque today. A highly knowledgeable member of our team will happily answer any questions you may have about our house siding and installation services.