Beautiful House Siding for Your Home in Los Lunas, NM, or a Surrounding Area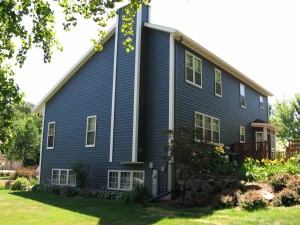 Do you require new siding for your house in Los Lunas, New Mexico, or a surrounding area? If so, turn to the reliable contractors at ABC Seamless of Albuquerque. We have proudly helped homeowners in the area since our founding in 1989 and in that time we have established a reputation for installing durable and aesthetically appealing siding for their homes. Thanks to our method of custom-fabrication you will be receiving a product that is custom-cut to the exact dimensions of your home. This will allow your siding to flow flawlessly from side-to-side with no unsightly seams to distract from the beauty of your home.
Additionally, one of the benefits of working with ABC Seamless of Albuquerque for a house siding replacement project at your home in Los Lunas, NM, or a surrounding area, is that you will be given the option to choose the perfect style and color of cladding to complement your home's existing exterior. Some of the styles of siding we install include:
Board and batten
Log siding
Regular horizontal
ABC Seamless of Albuquerque is a Siding Company with Reliable Customer Service
At ABC Seamless of Albuquerque, we offer reliable customer service that will leave you feeling like all of your questions have been answered. Our team of professionals will be with you every step of the way, starting with a convenient in-home consultation. Our reliable installations and top-tier customer service have even earned us an A+ rating with the Better Business Bureau that we continue to maintain.
To learn more about the house siding we install for residents of Los Lunas, NM, and the surrounding areas, contact ABC Seamless of Albuquerque today. Alternatively, feel free to stop by our spacious showroom to see all of our products for yourself before making any decisions.