How Can I Prevent Moisture Damage on a Parapet Wall?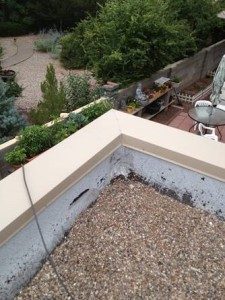 If you have a flat roof at your home in Santa Fe, New Mexico, or a surrounding area and are looking for ways to prevent moisture damage, it is likely that parapet caps are the solution that you're looking for. While it's not frequent in the area, if you're not prepared when rain strikes, you can be left with long-lasting moisture damage that can be expensive to repair. If you turn to the experts at ABC Seamless of Albuquerque, we will install a custom-made parapet cap over the parapets of your flat roof home. This will make your existing parapets become maintenance-free and will protect them from water infiltration better than ever before. In fact, we can even create caps in a wide array of shapes and sizes up to 30 feet in length for a more seamless fit that is found with the traditional 10-foot size parapet caps found with most other companies. 
The installation of parapet caps over the parapet at your home will provide you with the extra protection you require against cracking, staining, mold, blistering, and other damage. However, by turning to ABC Seamless of Albuquerque for the use of a parapet cap, you will experience many other unique advantages, including:
An impressive warranty so you can rest assured that your investment will remain protected

Professional installations from factory-trained and -certified installers

A wide array of colors to select from to perfectly complement the existing exterior of your home
Contact Us Today!
For more information about the impressive parapet caps that we offer and to learn more about how they can prevent damage at your home in Santa Fe, NM, or a surrounding area, contact ABC Seamless of Albuquerque today. When you do, make sure to ask about the convenient financing options we offer to qualifying homeowners.