Aesthetically Appealing Log Siding Available to Homeowners in Grants, NM & Surrounding Areas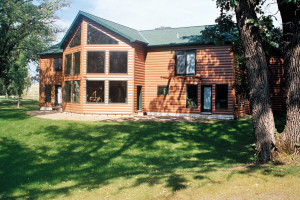 Do you desire the visual appeal of living in a log cabin but don't have the time to maintain the real wood siding that goes along with it? If so, turn to the professionals at ABC Seamless of Albuquerque for a seamless steel log siding that will grant you the look you desire without the expensive problems that go along with real wood. The seamless steel siding we offer to homeowners in Grants, New Mexico, and the surrounding areas, offer impressive resistance to hail, rain, intense UV exposure, and all other common weather elements. This means that once your new log siding is installed, you won't ever have to worry about staining, painting, or scraping your new siding ever again.
Furthermore, by turning to ABC Seamless of Albuquerque for the installation of log siding at your home in Grants, NM, or a surrounding area, you will receive numerous additional benefits, including:
A wide variety of colors to choose from to perfectly complement your home's existing appearance
A lifetime warranty
On-site fabrication to create a flawless and durable siding that stretches from side to side of your home
And more
For more information about the seamless steel log siding we offer to homeowners in Grants, NM, and the surrounding communities, contact ABC Seamless of Albuquerque today. Alternatively, feel free to stop in at our large showroom to see all of the home improvement products we offer in person.