Durable Metal Parapet Cap Options for Homeowners in Placitas, NM & the Surrounding Areas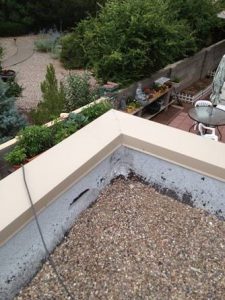 If you live in Placitas, New Mexico, or a surrounding area and have a flat roof, it is likely that you are constantly worried about the potential periods of intense rain at your residence. While it is highly unlikely for any severe weather to strike, it is still a possibility during certain parts of the year. That is why it is so important to protect the parapets on your flat roof because they are the most at-risk portion of a home to experience moisture damage. Thankfully, ABC Seamless of Albuquerque custom-makes metal parapet caps that are designed to prevent all long-lasting moisture that can occur along your parapets and wreak havoc at your home. And, because we custom make all of our parapet cap solutions ourselves, we're able to accommodate caps in a wide range of sizes up to 30 inches in length.
Durable Gutter Solutions
When you turn to the home remodeling experts at ABC Seamless of Albuquerque, you'll be able to receive much more than just high-quality metal parapet caps if you require it. Our team of installers is able to custom fabricate and install a wide variety of durable gutter guards in addition to seamless gutters that are designed to allow rainfall to flow freely away from your home.
To learn more about the metal parapet cap options available to homeowners in Placitas, NM, and the surrounding areas, contact ABC Seamless of Albuquerque today. When you do, one of our knowledgeable team members will happily answer any questions you may have about our products.