Impressive Metal siding Options Available to Residents of Los Lunas, NM & all Other Neighboring Communities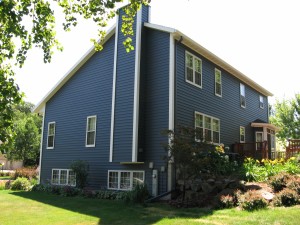 If you're looking for metal siding for your home in Los Lunas, New Mexico, or a surrounding area, turn to the experts at ABC Seamless of Albuquerque. Since 1989 we have proudly helped homeowners by custom fabricating and installing our unique style of seamless steel siding onto their homes. Our highly durable and aesthetically appealing cladding will make your home stronger and more visually appealing than ever before.
Additionally, when you turn to us for your metal siding upgrade project at your home in Los Lunas, NM, or a surrounding area, we will be able to give you all of the options you desire. The team at ABC Seamless of Albuquerque is able to effectively install:
Log siding
Horizontal seamless steel
Board and batten siding
And more
The unique method we use to custom fabricate all of our metal siding products will ensure that there are no seams on your home. This is especially important because seams are the locations at which leaks, cracks, and breaks tend to form. Plus, with a Kynar 500® finish on your new seamless siding, you will never have to worry about painting your cladding again.
For more information about the durable metal siding that we offer to homeowners in Los Lunas, NM, and the surrounding communities, contact ABC Seamless of Albuquerque today. When you do, make sure to ask about our financing options available to all those who qualify.