Seamless Parapet Caps Will Protect Your Flat Roof Home During all Inclement Weather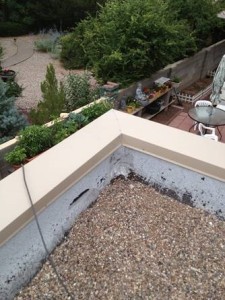 The dry climate of the Placitas, New Mexico, area can be advantageous for homeowners because the worry of moisture damage isn't as prevalent as in other parts of the country. This leads to many homeowners selecting flat roofing instead of another roofing product. However, when bad weather does strike, it is important to have adequate protection over your roofs parapets. Without a seamless steel parapet cap in place, you could be left with long-lasting moisture damage that could affect your roofline or foundation. Thankfully, ABC Seamless of Albuquerque offers maintenance-free parapet caps that are custom-made for side-to-side protection along your roof. We can even fabricate caps in sizes up to 30 feet in length!
Durable Seamless Steel Siding Will Protect Your Home Better Than Other Materials
When you turn to the specialists at ABC Seamless of Albuquerque, you'll also have the option to have our high-quality seamless steel siding installed at your home. Having both installed will allow you to create a perfectly complementary appearance at your residence. And, our steel siding is custom-fabricated out of durable 28-gauge steel to create a flawless and impenetrable barrier from side-to-side of your home.
For more information about the parapet caps that we offer to residents of Placitas, NM, and the surrounding communities, contact ABC Seamless of Albuquerque today. When you do, ask about the convenient financing options available to all qualifying homeowners. One of our knowledgeable team members will happily answer any questions you may have.