Impressive Parapet Wall Protection Options for Homeowners in Albuquerque, NM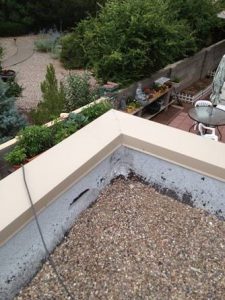 If you have a flat roof at your home in Albuquerque, New Mexico, or a surrounding area, it can present a few disadvantages when it comes to the occasional times that heavy rain occurs in the area. If you're not prepared for these outbursts of rain, your home may receive long-lasting moisture damage that can be expensive to repair. However, if you turn to the experts at ABC Seamless of Albuquerque, we will install a custom-made parapet cap over the parapets on your flat roof home. This will provide the best parapet wall protection and keep them maintenance-free and protected against water infiltration better than ever before.
The installation of a parapet cap over your roof parapet will provide it with the extra protection it requires against cracking, staining, mold, blistering, and other damage. However, by turning to ABC Seamless of Albuquerque for the installation of a parapet cap, you will experience many other unique advantages, including:
An impressive warranty to allow you to rest assured your investment remains protected
A wide array of colors to select from to perfectly complement the existing exterior of your home
Professional installations from factory-trained and -certified technicians
Let's Get Started!
For more information about the parapet wall protection options that we offer to homeowners in Albuquerque, NM, and the surrounding communities, contact ABC Seamless of Albuquerque. When you do, make sure to ask about the convenient financing options we offer to qualifying homeowners.