Select the Leading Patio Cover Installers Available to Homeowners in Tijeras, NM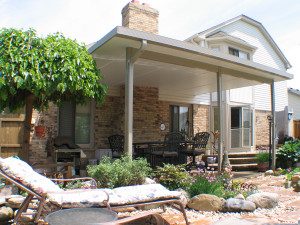 If you're interested in patio covers at your home, look no further than the leading patio cover installers available to homeowners in Tijeras, New Mexico, and the surrounding areas – ABC Seamless of Albuquerque. Our team will help you create a beautiful, shady outdoor retreat that will help you find an escape from the blazing sun while enjoying the beautiful backyard at your home.
As the patio cover installers for the project at your home in Tijeras, NM, or a surrounding area, we offer several unique benefits, including:
Aesthetic appeal – Our patio cover installations come in a wide array of styles so you can create the look that will best suit your home's unique design.
Low maintenance requirements – Our covers feature baked-on enamel and are available in embossed cedar or stucco finishes that allow them to hold paint nearly three times as long as real wood.
Durability – The covers installed are constructed from 4-inch thick insulated foam covered laminated aluminum which is sturdier than wood
In addition, as the best patio cover installers available for your home we can even convert your new patio cover into a room enclosure down the line by simply adding windows and walls, leaving you with aesthetically appealing options if your needs should ever change.
Contact Us Today!
Contact ABC Seamless of Albuquerque today for more information about what makes us stand out as the leading patio cover installers available to homeowners in Tijeras, NM, and the surrounding areas. We will happily answer any questions you may have about our impressive services when you do.