Patio Covers Can Create an Outdoor Retreat for your Tijeras, NM, Area, Home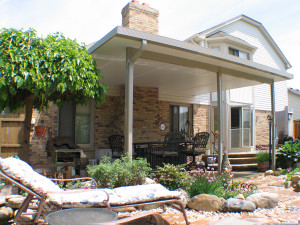 The patio covers offered by ABC Seamless of Albuquerque are a great way to increase the enjoyment on your backyard space at your Tijeras, New Mexico, area home. Our patio covers are manufactured from aluminum, which in comparison to wood, is more affordable and requires less maintenance. Our patio enclosure options are also available in a large selection of styles so that you can create the exterior aesthetic that you are looking for.
All of our patio shading options are extra durable so that you can enjoy your new product for years to come. Additionally, some additional benefits of patio covers offered by ABC Seamless of Albuquerque in the Tijeras, NM, area, include:
Installation can take place in as little as one day, so you can begin to enjoy your new backyard space as soon as possible
Increased energy efficiency and sturdiness due to the 4-inch thick insulated foam covered with laminated aluminum for increased sturdiness and to help protect you from the sun's heat
Little-to-no maintenance because of the baked-on enamel, available in either embossed cedar or stucco finishes, allowing the paint to remain on the structure nearly three times longer than real wood
And, our patio shading products are able to be easily converted into a complete room enclosure by adding walls and windows should your needs ever change down the line.
For more information about the patio covers and other seamless steel products available in the Tijeras, NM, area, contact ABC Seamless of Albuquerque today.