Durable Siding Available to Homeowners in Tijeras, NM & Surrounding Area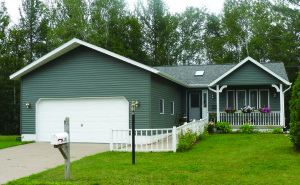 Seamless steel siding from ABC Seamless of Albuquerque is the most durable cladding option available to homeowners in Tijeras, New Mexico, and the surrounding area. At ABC Seamless of Albuquerque, we have been in business since 1989, and we have specialized in providing an elegant siding that will hold up to all of the elements. And, because our cladding is custom fabricated on-site we are able to guarantee that it will fit seamlessly from side-to-side of your home ensuring that you won't have to worry about cracks, leaks, or breakages.
We offer our siding in a variety of different styles to better suit the look of your home. We can create regular, colonial, colonial Luxembourg, log, vertical board and batten, or reverse board and batten cladding for your house. And, we can offer beautiful soffit, fascia, or trim products to match your new cladding should you ever require it.
Additionally, because our seamless steel siding is made from 28-gauge, hot-dipped, G-90 galvanized steel, it is able to expertly hold up to damage from:
Fire
Wind-blown debris
Hail
And more
And, to make you feel safe in your investment for years to come we even offer an incredible limited lifetime warranty along with the manufacturer warranties already available on all of the products that we offer.
For more information about the seamless steel siding available to homeowners throughout Tijeras, NM, and the surrounding areas, contact ABC Seamless of Albuquerque today. Alternatively, feel free to stop by our beautiful showroom, open Monday through Friday, to see all of our cladding options in person.