What are the Advantages of Seamless Gutters?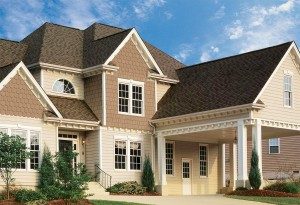 Seamless gutters are an attractive gutter system option that provides various advantages to the homeowners who choose to install them on their house. The main difference between sectional gutters and seamless gutters is that the section gutters are installed in sections with a visible seam between each gutter piece. While this may not seem like a big deal, there are many advantages to utilizing seamless gutters over a traditional gutter system.
Some of the most impressive benefits of seamless gutters include:
Reduced debris build-up – Unlike traditional gutters, seamless gutters lack joints where leaves, dirt, and other debris often pile up. This is a huge advantage for any homeowner because it means much less maintenance throughout the year.
Custom-fitted seamless gutters – Seamless gutters are made as one solid strip that is guaranteed to have precise measurements, allowing them to work effectively in dispelling water away from your roof and home.
Aesthetically appealing – Seamless gutters are an attractive gutter system choice because they are sleek, smooth, and lack the gaps between joints commonly seen in sectional gutter systems.
And more
ABC Seamless of Albuquerque Offers Impressive Seamless Gutters
End your search for a reliable gutter company with the professionals at ABC Seamless of Albuquerque. We have proudly served the area since our founding in 1989 and our reputation for providing high-quality installation services to local homeowners Our team of installers will do whatever it takes to ensure your satisfaction with your new gutter installation and our projects are all backed by a 10-year labor guarantee to ensure your investment remains protected.
Contact Us Today!
Contact ABC Seamless of Albuquerque today to find out more about what makes us stand out as the leading seamless gutter company throughout the Albuquerque area. When you do, a knowledgeable member of our team will happily answer any questions you may have about our products.