What is a Parapet Cap on a Roof?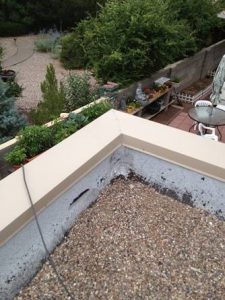 The state of New Mexico isn't known for its heavy rains or severe weather but when the occasional bad weather does strike, the flat roofs that occupy the area can be a serious disadvantage. This is because rainfall will pool on your roof and parapets to cause long-lasting moisture damage that can be expensive to repair. However, if you turn to the professionals at ABC Seamless of Albuquerque, we will help you install a parapet cap over the parapets of your home to make water damage a worry of the past.
Parapet caps traditionally come in a wide range of sizes and at ABC Seamless of Albuquerque that is no exception. We craft caps in shapes and sizes of up to 30 feet in length to create a more seamless fit than is found with the standard 10-foot size that is found with many other companies.
Benefits of ABC Seamless of Albuquerque
The impressive parapet caps that we offer will provide extra protection against your roofline to prevent the common cracking, molding, blistering, or other damage that an uncovered parapet can cause. And, when you have your parapet cap installed by the experts at ABC Seamless of Albuquerque, you'll have many additional advantages to experience, including:
An array of custom colors to complement the existing exterior of your home
An impressive warranty so you can feel secure in your investment
Installation from factory-trained and -certified installers
And more
To find out more about the impressive parapet caps we install for homeowners in Albuquerque, NM, and the surrounding areas, contact ABC Seamless of Albuquerque today. When you do, one of our knowledgeable team members will happily answer any questions you may have about our impressive products.